About ANDIS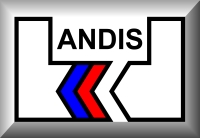 The ANDIS Ltd. company has been established in 1993 by four teachers/researchers of former Faculty of Electrical Engineering of Slovak Technical University (now the Faculty of Electrical Engineering and Information Technology) in Bratislava, the main target being the exploitation of long-years experience in the area of research and design of electrical devices and systems.
The main activity of ANDIS is solving of complex technical problems of our clients and work on the technically challenging projects across all the industry sectors. The standard serial hardware or software is not sufficient for such projects, so they require custom made hardware and software, which works together and thus solves the particular problem of our client. So, we solve such projects by development of custom hardware and software. The examples of such projects are in the FINISHED PROJECTS section. And particular projects are so different between each other, that it is hard, almost impossible to find their common denominator. That testifies about the width of the company´s abilities and the will to solve every interesting project.
ANDIS is also offering a self developed complete serial products in various technical areas. For example the system for GPS monitoring of vehicles ANDISmonitor, or the program system called M.E.D. designed for collection, processing and presentation of energy measurements – electrical energy, heat, water, gas etc. measured using devices distributed in the field. Regarding services, it is offering consultations in the area of electrical engineering.
The company is active internationally and has many foreign clients and partners in various areas. It is active also in the Association of Electrotechnical Industry of the Slovak Republic. It also has its own regular exposition on the international trade fair for electrical engineering, electronics, power engineering and telecommunications ELO SYS, from which it has brought several awards.
The company´s vision is a stable growth, expansion to other countries and constant widening of offered products and services in the highest quality possible. Our motto is: "do not copy, but lets do something others will be copying later."
In relation to the clients and partners, their satisfaction and our correct approach are on the first place. Our clients already know, why choose ANDIS.
You can view the continuous development of ANDIS in the GLANCE INTO THE PAST section, which is mapping the activity and particular milestones of the company from its establishment until now.
Award for economical stability and credibility
ANDIS is the owner of international award from Bisnode corporation. Only companies meeting strict economical criteria and certification conditions can obtain this award. Their validity is verified and updated daily.
For business partners,
it is an assurance of economical stability and credibility. The AAA certificate which ANDIS obtained achieves in average only 0,09 % of the most quality companies.