CPU AND LED module for displaying pictures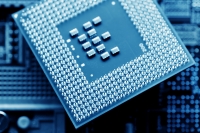 CLIENT: ARATRON TECHNOLOGIES s.r.o.
Device for displaying pictures and performing light shows using LED stripes and CPU module. These modules are combined inside a transparent tube and connected to a battery. The design is modular, therefore it is possible to combine more LED modules to create longer display area. Pictures for the show are stored inside the CPU module, which is dividing them into separate lines. These lines are then being displayed one-by-one using the LED lights on the LED module. To achieve that, these lights are blinking thousands of times per second and when the transparent tube is being quickly rotated in a circle, the eye percieves the blinking of the LED lights as a whole circular picture. It is caused by the effect known as persistence of vision and it is a similar effect to seeing aircraft propeller as a solid circle instead of separate blades when in motion.
The device has record-breaking parameters:
160 LED lights on a single module (80 on each side), minimal distance between LEDs

180 degrees light emission angle

LED blinking rate from 2600 Hz – 4000 Hz

10 bit colours

Powerful RISC CPU

256 MB memory

Image stabilisation (world´s first)

High-speed USB 2.0, USB charging

Wireless synchronization

Built-in remote controller
SOFTWARE
Accompanying software is designed to manage and prepare the pictures for the show and to copy them into the CPU module. It has the following functions:
Basic timeline creation

Timeline editing

Contrast adjustment

White colour balance adjustment

Automatic contrast and colour saturation adjustment

Preparation of files for the particular device

Unified interface for different types of devices (future types)

Unified workflow for different types of devices (future types)

Supported file types: JPEG, PNG, BMP, GIF (not animated)

Option to upload and display audio track

Selection of pictures with Drag&Drop, preview

Selection of audio track with Drag&Drop, preview

Simple setting for alternation of group of pictures for a preset timeframe

Simple attachment of timestamp to a picture, visualization at the audio track

Preview of the whole timeline / show

Option to save the project

Speed of picture rendering adjustment

Adjustment of pause duration between pictures
The final products are completed and sold by ARATRON Technologies
Photo gallery