ManiTech - System for monitoring and management of forklifts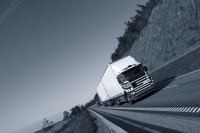 The goal of ManiTech system is to increase the work productivity of warehouse workers and simultaneously decrease the costs connected with operation and servicing of forklifts.
The whole system consists of hardware and software part.
The hardware part is the monitoring unit, which is installed into the forklift, is collecting various data about its operation and is sending them to the server.
The software part of the system is the ManiTech Client application, which is designed to display the data and statistics about forklifts, create reports, setup the system, monitor the actual and historical location of the forklifts and other activities connected with their operation. The data are saved on the server, access to them is secured by encrypted communication and protected by name and password.
MANITECH FUNCTIONS
Forklift use during the working hours - trips with and without load

Driver identification

Forklift blocking after unauthorized operation

Monitoring of driver´s seat occupancy

Forklift blocking after abandoning it

Monitoring of engine hours from the bus

Recording of crashes in 3 levels

Forklift blocking after 3rd level crash

Forklift deblocking after crash by authorized person only
Monitoring of load weight

Recording of trips with and without load

Recording of maximal load during a trip

Recording of exceeding of maximal forklift load

Monitoring of forklift speed

Recording of exceeding maximal speed limit in the area

Recording of leaving the zones of permitted movement

Monitoring of main battery voltage

Service intervals according to operation duration or Mth
| | | |
| --- | --- | --- |
| ADVANTAGES FOR CLIENT | MONITORING UNIT | IDENTIFICATION TERMINAL |
| | | |