GPS/GSM Monitoring Units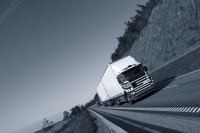 EXTREME PARAMETER: Wide Portfolio with Years Long Compatibility, Award for Patented Solution and Export
ACTIVITY AREA: Telematics
INDUSTRY SECTOR: Traffic
CLIENT: Business Partners
PROJECT LEADER: Ing. Július Kovács, Ing. Vladislav Valent, Ing. Eduard Chrvala, Ing. Michal Novák
Our first GSM/GPS monitoring unit was designed, manufactured and set to work in 1999. What is so interesting about that? We had no data modem at that time. And even if we had one, it would not be of any help to us, because there were no data transfers available in the GSM network in Slovakia anyway. And yet we found a solution. And that is why this date also is the date when we got our traffic monitoring system patented. One of the patent authors is the representative of our company.
A lot has changed since then. Nowadays, the 6th generation of our vehicle monitoring devices is on sale, while the portfolio has also widened - from the most simple A version (A as the beginning), through B (Basic) with a subversion named AB, through C (Classic) to D (Deluxe). Although our excellent Deluxe product is incomparably more feature rich than our first units, all generations of these devices are compatible with the ANDISmonitor software even today. This required tremendous effort from our engineers when designing the new models. But the result has come – the clients can choose from a big portfolio of devices, many of them are using 2-3 types, even from various generations - simultaneously. Ironically, we have clients who, more than 9 years after the purchase of our system, cannot "get rid of" the old devices, because they are still working fine and it is possible to add current generation devices to the system without a problem. In times of the computer and information technologies explosion, this is the best proof of quality and reliability of our products.
Our company is one of the few on our market, that are not selling imported goods, but on the contrary, exclusively a product of its own, developed and manufactured in Slovakia and also successfully exported abroad.
That is also why our monitoring system was awarded the Unique of the year prize at the 14th international trade fair for electrical engineering, electronics, power engineering and telecommunications ELO SYS in 2008.